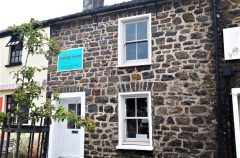 We're getting behind our new home of Narberth in its bid to bring home a Great British High Street Award.
Our staff were delighted when members of the awards team popped into Hearing Wales to say Narberth had been nominated.
The Great British High Street Awards are run by the UK Government's Housing and Communities Ministry and fronted by TV travel star Simon Reeve. They are sponsored by Visa.
The nomination is a great boost for the Pembrokeshire town where we have recently set up a second office, attracted by its eclectic and friendly business community. Its location is also central to our West Wales client base.
Senior Audiologist with Hearing Wales, Ben Davies said:
We can't think of a more deserving town to win a Great British High Street award. Since expanding our business here we have been made to feel extremely welcome by the local community and fellow business owners. Its a beautiful and fascinating town and we have our fingers crossed that Narberth can do it!
Other news from Hearing Wales