Hearing Wales Newcastle Emlyn
January 2023 saw the opening of a new branch for Hearing Wales in Newcastle Emlyn, Ceredigion.
Having run a pop up mobile hearing clinic for many years from the Emlyn Arms in Newcastle Emlyn, opening a shop on the High Street in Newcastle Emlyn was something that had been planned for a number of years.  When Antiques Cottage in Emlyn Square became available, it seemed like the perfect spot to situate a new branch of Hearing Wales.  It did need a lot of work to bring it up to our high clinic standards and to move it on from being a sandwich shop, but the transformation has been such an enjoyable experience.  We have also loved getting the lovely feedback from other shop owners and the local community who are so happy to see a new and much needed opening in the locality.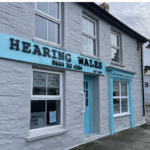 Hearing Wales Newcastle Emlyn
Our team of Branch Receptionist, Hearing Aid Audiologist, Ear Wax Removal Micro Suction Assistant and Hearing Care Assistant in the Newcastle Emlyn Branch would love to meet you and show you around, so please pop in and introduce yourselves if you are passing.  The address is Antiques Cottage, Emlyn Square, Newcastle Emlyn, SA38 9AN.  Tel 01239 727052
Newcastle Emlyn hearing centre is open for Hearing Aid Repairs, Hearing Tests, Private Hearing Aids, Hearing Aid Servicing and Ear Wax Removal via micro suction.
Hearing Wales Cardigan
We opened a hearing clinic in Cardigan back in the Summer of 2022.  You can come here for all of our hearing services.  The address of our Cardigan clinic is Room 4, 36 Pentre, Cardigan, SA43 1JS.  This clinic is by appointment only.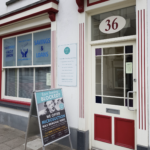 Hearing Wales Cardigan
Hearing Wales Narberth
In 2019 we first opened our door in our Narberth hearing aid shop and have loved being part of this bustling town and community.  We hope that with all of our shops as well as continuing our mobile pop ups, we are providing a service to the communities in West Wales.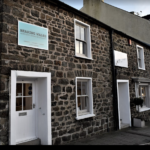 Hearing Wales Narberth
To book an appointment in Newcastle Emlyn or Cardigan, please call – 01239 727052
To book an appointment in Narberth, please call – 01834 826 826.  You can also use our free phone number to get through to any of our branches throughout Wales – 0800 313 4304
Other news from Hearing Wales