A Cardiff street is set to be the new home of one of Wales's most advanced hearing centres. Hearing Wales's Cardiff hearing centre is opening on Pantbach Road in Rhiwbina on Monday 21st January.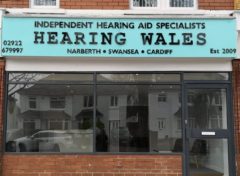 The Cardiff hearing centre has been transformed and equipped with the kind of hearing care technology which Director and Lead Audiologist Ben Davies believes will make it the Welsh Capital's premier audiology clinic:
"Hearing Wales has been established in  Swansea for a decade and we're determined to bring our commitment to clinical excellence and individually-tailored care to Cardiff.

"We are family business and the values that come with that are still central to the way we operate. We were delighted to be able to acquire B&E Morgan Hearing last year  the UK's oldest independent audiology company – and have high hopes of continuing to grow business in Cardiff."
Since starting operations in 2009, Hearing Wales opened a clinic in  Narberth last year and with the Cardiff hearing centre added to the group they now employ 15 people, with 8 of them coming on board within the last year alone.
And with recent research indicating that using hearing aids can protect against dementia, there has never been a better reason to get your hearing checked.  Especially as hearing tests are offered free of charge.
Mr Davies said hearing aid technology was getting smarter and more discreet all the time:
"Gone are the days when people with hearing loss had to put up with huge models, which left the user struggling in difficult acoustics or with background noise.

"The most current digital hearing aids constantly monitor their wearer's surroundings and set themselves accordingly, giving them the best results. Behind the ear models are tiny nowadays, and many aids can be tucked very discreetly in the patient's ear canal."
Other news from Hearing Wales