Summertime, and the living is easy…. Why not make it even easier by switching up to a pair of Rechargeable Hearing Aids?
Rechargeable Hearing Aids put an end to the following annoying scenarios experienced by many hearing aid users, and they help the planet too:
Running out of hearing aid batteries just before a holiday….
Struggling to replace tiny hearing aid batteries when your dexterity or eyesight aren't what they used to be….
Feeling that pang of environmental guilt as you dispose of yet more batteries and their packaging….
Pretty much all of the leading hearing aid technology manufacturers have rechargeable hearing aid models in several ranges, and as an independent audiologist we can bring you the best of all of them – your taste and hearing needs can dictate.
Here are just a few examples from the rechargeable hearing aid market. There are many more and a discussion with your audiologist will help you find the right model for you . Call 0800 313 4304 to book your next consultation.
Rechargeable Hearing Aid models by Signia
Signia have also recently released teir revolutionary Signia Nx hearing aid technology platform, which the global company is touting as the world's most advanced hearing aid platform.
Among the rechargeable models in the Nx range are the Signia Styletto, the Signia Pure Charge and Go and the Insio Nx
We think the mould-breaking Styletto and Styletto Connect by hearing tech giants Signia define a new era in hearing aid design and lifestyle-friendly functionality.
They come in a little pocket-sized charge case which itself can be charged from a mains plug to give you charge-on-the-go freedom. Perfect for festivals, mini-breaks and the like.
Aesthetically, we think they are streets ahead of other hearing aids. As rechargeable hearing aids they don't need to be built around the traditional battery-friendly shape, giving them a sleek design that will probably start a revolution in hearing aid design. Superb connectivity too – allowing you to stream from all your devices.
Rechargeable Hearing Aid models by Phonak
The Phonak Audéo Marvel focuses on what you expect from a first-class hearing aid – a clear, rich sound experience. Combined with modern technology it is a multifunctional hearing aid that comes in a rechargeable model. Its the newest of the Phonak hearing aids but its not the only rechargeable model – the video gives you more idea of the Phonak range of Lithium Ion powered rechargeable hearing aids.
Rechargeable Hearing Aid models by Starkey
Starkey's long-lasting rechargeable hearing aids are small and easy to use, providing the wearer with:
Immersive sound for true listening enjoyment.
Long lasting charge delivers superior hearing.
All-in-one charger holds enough charge to provide portable charging without plugging into the wall.
Rechargeable Hearing Aid models by Starkey include:
The Livio AI (pictured), Livio and Muse iQ Hearing Aids
Rechargeable Hearing Aid models by GN Hearing
The Quattro is GNHearing's latest – and rechargeable – digital hearing aid with a brilliant sound quality. Use its stylish and transportable case to store and charge your hearing aids at home or travelling. They are easy to fit so you are ready to relax.
With ReSound LiNX 3D you'll be better at identifying speech in noise and be able to hear more sounds around you. You can use your
hearing aids like wireless headphones. And you'll get a brand new dimension of control over your hearing aids – wherever you are.
Rechargeable Hearing Aid models by Widex
The Widex Evoke evolves in real life to keep getting smarter.
Interactive options help you intuitively shape your listening experience, putting you in full control if you want to be.
And if you want to lean back? EVOKE automatically makes hearing aid adjustments suited to your needs and your environment. This ensures great sound for a busy life has never been easier.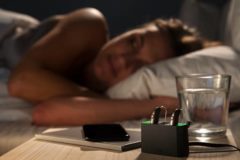 The new and improved Widex EVOKE Rechargeable hearing aids mean there's no need to change the batteries – simply pop your hearing aids into the charger at night, just like charging a mobile phone or tablet device, and they will be ready the next morning.
With power lasting for approximately 19-24 hours plus, depending on how many hours the hearing aids may be used for when streaming music, film sound etc, there's more than enough power for a full days use so you have longer lasting sound.
Hear, sleep and recharge to suit your lifestyle with Widex EVOKE Rechargeable hearing aids – try today with a free two-week trial.
Lithium Ion technology
The latest Rechargeable Hearing Aids use Lithium Ion batteries, shortened to LiIon, which is the most popular battery used in consumer electronics.
It creates energy by moving Lithium ions within the battery cell from a negative to positive electrode. It is light-weight, low maintenance and has a high battery capacity allowing for long use after a short charge cycle. It is already used in many electronics like cellular
phones, headphones, and tablets. Its an ideal battery for a hearing aid system because it allows for a full day of use even when
streaming from accessories. Additionally, it will last the lifetime of the hearing aid with several years of repeated charging.
And no… battery-free hearing doesn't mean this….!
Other news from Hearing Wales