The new Phonak Marvel  hearing aid is out now, and it is something of a superhero! We'll be announcing open days to try the newest hearing aid on the market at our Swansea and Narberth Clinics very soon.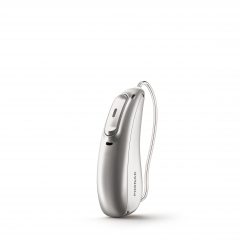 In the meantime, here's the lowdown on the Phonak Marvel Hearing Aid.
The new offering manages to combine a wish-list of functions into the new hearing aid – superb sound quality and complete connectivity for the wearer. They are also rechargeable for easy use.
Whilst that sounds like something we would all expect from our hearing aid, the new Phonak Marvel don't compromise on anything. Wearers can enjoy high quality sound along with hands-free phone calls, stereo sound quality for streaming music, as well as the convenience of rechargeable hearing aids.
Super-connected

Wearing the new Phonak Marvel allows the wearer to stay connected to their phone, whether its an iPhone or Android, TV or other Bluetooth-enabled phones.
Clients can enjoy true hands-free phone calls thanks to the built-in microphones in the hearing aids. Calls can be answered or rejected with a simple push of a button, even if the phone is across the room.
Super-fast charging
Marvel hearing aids are quick to charge, long-lasting and there are no more hassles with disposable batteries.
Super-Sound quality
Marvel manufacturers Phonak promise exceptional sound quality from the minute your hearing aid is fitted.
That includes:
Better speech understanding in noise

Reduced listening effort in noise

Top rated streamed sound quality
Speak to us about this little Marvel
Investing in your hearing technology is always an investment in your quality of life. Speak to one of our team if you're thinking of upgrading your hearing aids. You might find the Phonak Marvel is for you.
To find out more you can go to the Phonak website at Phonak Marvel Hearing Aid
Other news from Hearing Wales