For those who don't know that much about hearing issues, it's the general consensus that a simple hearing aid is the answer to any hearing problem. However, it's rarely that straightforward. There's a variety of hearing aids designed for different issues, and even when you find the one perfect for you, it still doesn't always give you perfect hearing. Yes, everything might be loud enough, but is it clear enough?
Well, this is exactly what a wireless FM hearing system is for. It's a device that picks up sound over a distance and provides much clearer speech and sound. It can be worn in addition to a hearing aid or cochlear implant, and is even of benefit to those who don't wear an aid.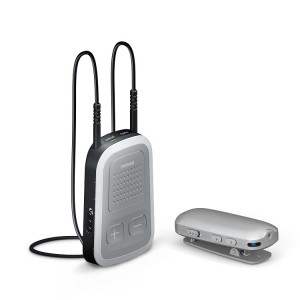 Many retail and business locations have an "induction loop" installed, which allows hearing aid wearers to switch their aid to the T position and hear a lot clearer. Obviously, not every location has this installed, and some places such as restaurants probably never will.  This is where a handy FM system comes in, but how does it work?
Well, an FM hearing system comes in two parts – the transmitter and the receiver. The transmitter picks up sound using a microphone, or via direct connection to a sound source (such as a TV). It then transmits the sound to the receiver, via an FM signal. How the sound is then heard by the user depends on what sort of system they own. If it's a neckloop, the receiver is worn around the neck, and acts as an induction loop. The sound will be heard via a hearing aid or cochlear implant set into the T position. However, the receiver can also be connected directly to the hearing aid with an adapter. This means the receiver would be powered by the hearing aid's battery, and the volume would be controlled using the aid. An alternative design to the receiver is the inductive earhook. This is a small receiver designed to attach to the ear, with a small speaker over or inside the ear canal.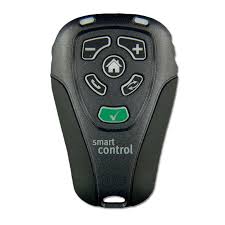 The transmitter also works in various ways. Some connect to your mobile phone using bluetooth, transmitting the speech from the caller to your receiver, providing you with a strong clarity of sound during a phone call. Also, the microphone used to pick up speech can be focused differently – some are omnidirectional and pick up sound from a 360 degree radius, while others point in one direction that can be changed depending on the situation. If the system is being used while watching TV, using a computer or listening to music on the radio or on an MP3 device etc, the transmitter can be corrected directly using a 3.5mm stereo socket.
Because the system transmits using FM, you may be worried about picking up FM radio stations, or anything else that uses an FM signal. However, the device transmits on bands of 863 to 865 MHz and 169 to 176 MHz. These bands are free and don't require a license, and therefore should be free from any interference.
Overall, a wireless FM hearing system is an extremely useful tool for those with hearing problems, whether they're already using a hearing aid or not. A system is light, with an average weight of around 62 grams, and is simple to operate, with easy to use controls on the device, and details such as volume and battery level displayed on screen.
If you're looking for a clearer, more audible sound with reduced background noise and interference, a wireless FM hearing system is heavily recommended.
Other news from Hearing Wales