Modern life is getting noisier – it's a fact. And its having an impact both on our quality of life and our hearing.
During a single day, people living in a typical urban environment can experience a wide range of sounds, including shopping centres, schools, the workplace, entertainment such as the cinema and concerts and even home. In fact, as far back as 1999, the World Health Organization (WHO) declared:
"Worldwide, noise-induced hearing impairment is the most prevalent irreversible occupational hazard, and it is estimated that 120 million people worldwide have disabling hearing difficulties."
Once you have hearing loss, dealing with an ever-rising tide of background noise without the right hearing technology can be completely exhausting.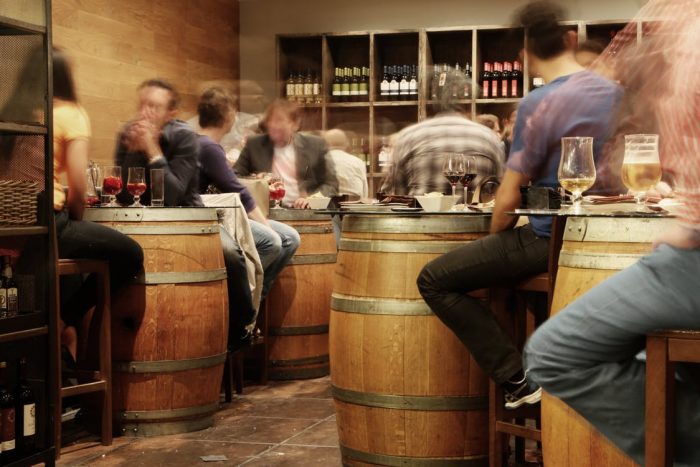 'Quiet' nights in
As Hearing Loss awareness campaign group Action on Hearing Loss reported, diners are fed up with having to compete with restaurant noise on their nights out and are increasingly turning to takeaways.
Noise levels in some of the popular restaurants can top over 90db on busy nights, which is the equivalent of eating next to a motorcycle or lawnmower.
A survey of 1,200 people revealed that over 43% of potential diners have opted to get a takeaway instead of going out for a meal.
91% of the survey sample said they wouldn't return to a noisy place so at Hearing Wales, we think its time businesses took note.
Mental strain
Even for someone with normal hearing, noisy settings can be tricky to navigate when trying to make out speech. For people with hearing loss it can be a nightmare.
Background noise tends to mask the finer sounds of speech — like higher-pitched consonants — which makes it difficult for even those with normal hearing thresholds to hear in crowded, noisy environments.
Add to that, the variables of hearing loss, and these situations can be incredibly strenuous, as the brain is not always able to separate speech from the background noise and fill in the blanks of those missed sounds.
---
How can a hearing aid from Hearing Wales help me?
Many people may not realize that being unable to understand a conversation when there is a lot of background noise is among the first signs that hearing loss might be present.
Ben Davies, Hearing Wales Lead Audiologist says:
"New patients frequently tell me 'I can hear fine, I just have trouble when there is background noise.' Almost all of these people will end up having some degree of hearing loss and many will be very good candidates for hearing aids.

"Hearing aids work to analyse and distinguish all sounds coming into the microphones, then treat noise and speech differently, prioritising speech over noise."
The good news is that being a completely independent company, Hearing Wales work with all the UK manufacturers and can therefore offer an unrestricted range of hearing technology, unlike many of our competitors. We are committed to finding the right hearing solution for each individual customer and our expert audiologists have extensive training to be able to offer honest and impartial advice.
Call us today on
0800 313 4304

to arrange your free, no obligation hearing test, or pop into one of our three bespoke hearing clinics in Swansea, Cardiff and Narberth. 
Other news from Hearing Wales