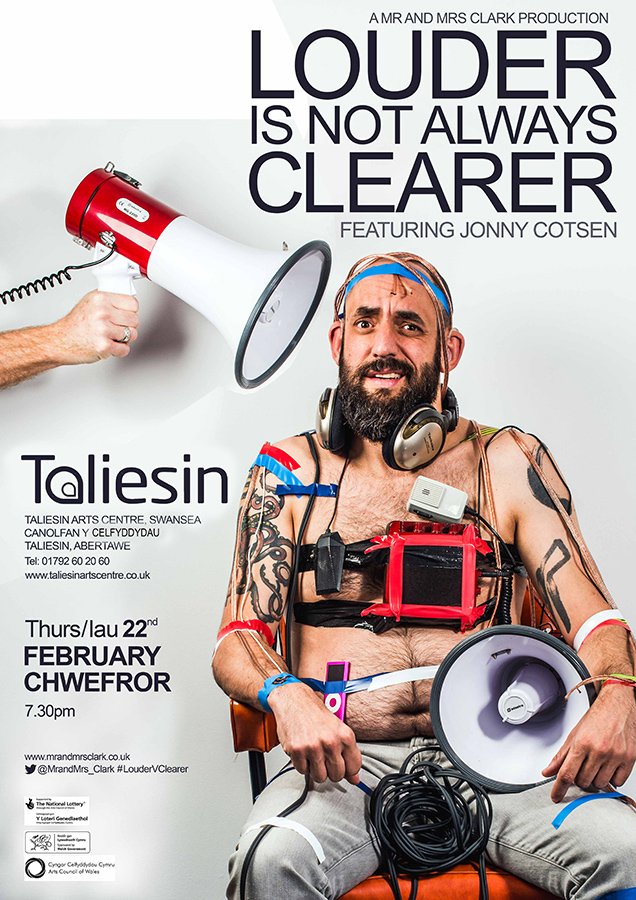 There seems to be an exciting and long-awaited shift towards understanding and awareness of deafness and disability in general taking place in the media and arts with the push into 2018.
A young deaf girl – not a Hollywood starlet but a normal little girl from Swindon who happens to be deaf – is nominated for an Oscar for her performance in "The Silent Child".
Now here in Swansea the Taliesin Arts Centre is hosting a ground-breaking new play about one man's struggle to live his life with deafness.
'Louder is Not Always Clearer' tells the story of Jonny, a teacher, a workshop leader, a football fan, a father, a festival goer. Jonny is deaf. The play tells his humorous and moving story, portraying the vulnerability of a deaf man, created and performed by a deaf man.
For a hearing audience it is an illuminating and emotional experience. For deaf audience members the show is a familiar tale of misunderstanding and isolation. For all audiences it is a humorous and at times moving story of one man's attempt to cope, to fit in and be accepted.
Mr and Mrs Clark short-listed for the Amnesty International Freedom of Expression Award in 2015 and presented (F.E.A.R.) as part of Wales In Edinburgh in 2017.
#LouderVClearer
---
"Louder is Not Always Clearer" is showing in the Taliesin Great Hall on 22nd February at 7.30pm. To find out more or book tickets log onto
https://www.taliesinartscentre.co.uk/en/performances.php?id=55988
Note: The performance incorporates British Sign Language, creative captions and spoken English to make it accessible to D/deaf, deafened and hard of hearing audiences. Should any audience members require audio enhancement during the performance, then headsets will be provided.
Other news from Hearing Wales